Thank you to Cube Dog for sponsoring this review. For more information about Cube Dog please visit the
Facebook
page or download it on
iTunes
.
As an iPhone addict, I love to discover new and exciting apps. First, because they are enjoyable and second, because it keeps the kids entertained. I love kid-friendly apps that can keep the kids occupied is sticky situations... think... getting bored while shopping, waiting for an appointment or waiting for the rest of the family to finish eating at a restaurant. If you are a parent, you know you've been there! There have been many times that my iPhone and it's apps have SAVED me from a crying fit.
Recently I was introduced to Cube Dog. Cube Dog, you ask... what exactly is that?
A little more about Cube Dog
Cube Dog is a free app where you can create a customizable virtual dog from start to finish. Once you've created your dog, you're ready to play! The app includes amazing features like fetching a bone, playing baseball and calling you. Yep, that's right, calling you. You have to see it to believe it! In addition to those fun tricks, you also have the ability to photograph your dog on-location using your iPhone camera. It's so much fun. What's great is that overall, you have more than 40 special tricks to choose from.
Check out the video below for a little introduction...
To use the app you need an iPhone4, iPhone3GS, iPod Touch 3G, iPod Touch 4G and all need to have iOS 4.0 or higher running on the device.
ace and friends thoughts
After installing the Cube Dog app, it was super simple to use. You can completely personalize your Cube Dog to your liking, meaning you can create your pet by choosing the eyes, ears, and even the color.... with over 1.3 million possible combinations, your choices are virtually endless. If you can't decide exactly how you want your pet to look, just give your device a shake and the app will create one for you.
My new little friend... Turqie... (can you guess why that's his name?)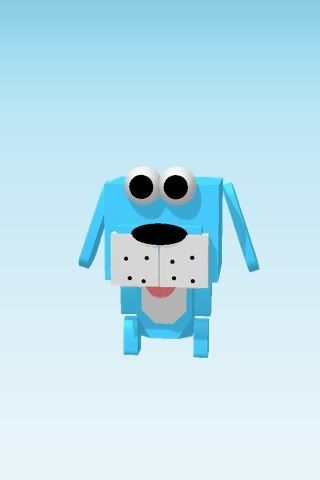 Overall it's a great FREE app and kids and adults alike will enjoy creating and playing with their Cube Dog. As you are limited to what you can do with the FREE portion of the app, some playing with it may become bored after some time playing with it. However, you do have the option of purchasing add-ons for Cube Dog.
From June 6 – 13, Cube Dog is running a promotion on the Cube Dog page. So head over and Like the Cube Dog Page now and learn more about the promotion!
Get started today and download the free Cube Dog app from
iTunes
to begin creating your virtual 3D dog.
Disclaimer: While Cube Dog provided me with the app to review, the opinions I've expressed here are solely my own and represent my honest viewpoint. Cube Dog, Clever Girls Collective and I promote Blog With Integrity.
Pin It