Great news... Bright Beginnings is now available to buy on diapers.com!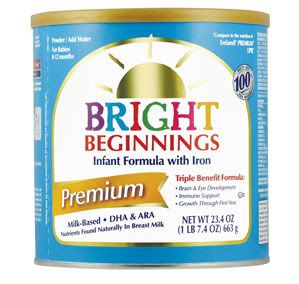 About Bright Beginnings
Bright Beginnings offers a variety of FDA-regulated infant formulas that are nutritionally comparable to the big national brands - at prices that will fit your family's budget.
When you look at the ingredients and nutritional facts for Bright Beginnings infant formula, you can see the similarity between Bright Beginnings and more expensive brands like Similac® and Enfamil®. We focus on providing the highest quality nutrition for your baby, not on fancy advertising. That's why we can sell a premium formula for less - without cutting corners.
All infant formula must meet the same FDA regulations. Our formulas follow the same FDA rules as Similac® and Enfamil® - giving your baby all the nutrients needed for growth and development.
Bright Beginnings mission... Premium product without the premium price!
Available Products
Premium Milk-Based Formula -
for 0-12 months
.
Gentle Milk-Based Formula -
for 0-12 months. For fussy eaters or gassy babies.
Organic Infant Formula -
for 0-12 months. Follows organic standards.
Soy Infant Formula -
for 0-12 months. milk and lactose free.
Soy Pediatric Drink -
ready to feed drink.
Want to learn more about Bright Beginnings? Just check out Bright Beginnings on Facebook.
Save even more with coupons at Diapers.com.
Use CODE: GET10PCT to get an additional 10% off.
Free shipping on orders of $49 or more.
This is a Sponsored post written by me on behalf of PBM Products for SocialSpark. All opinions are 100% mine.
Pin It